Improve your Polish
listening and speaking skills
Start speak Polish without thinking
LEARN POLISH FAST
Do you feel tired of learning Polish?
You learn, but you still can not speak Polish?
— You are not alone!
Czujesz się zmęczony nauką języka polskiego?
Uczysz się, ale wciąż nie możesz mówić po polsku?
— Nie jesteś samotny!
STOP 'STUDY' POLISH
Discover a better way. Listen more, and you'll understand more.
Speak more, and you'll speak better. It's easy!
Poznaj lepszą metodę. Więcej słuchaj, więcej zrozumiesz.
Więcej mów, będziesz mówić lepiej. To proste!
HERE'S YOUR PROBLEM
You're not listening to and speaking enough Polish.
You're not using Polish enough. Help is here:
Daily Polish Stories will help you understand Poles,
and the "Q&A" section will help you to speak Polish.
Za mało słuchasz i mówisz po polsku. Za mało używasz polskiego.
Tu jest pomoc: Daily Polish Stories pomogą ci rozumieć Polaków, a Q&A pomogą ci mówić po polsku.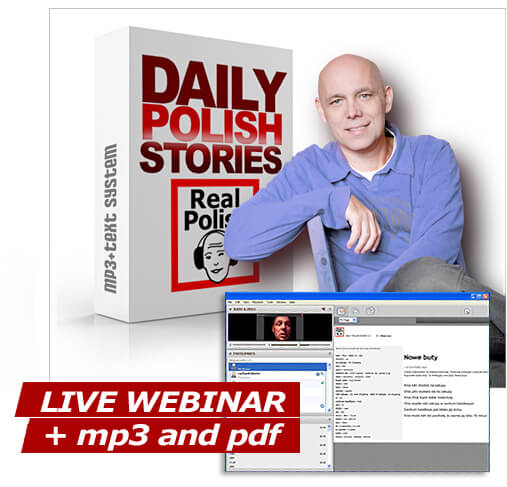 Maybe you have some of these problems
You are afraid of speaking Polish
Boisz się rozmawiać po polsku
You learned grammar and vocabulary, but still do not speak Polish
Uczyłeś się gramatyki i słówek, ale nadal nie mówisz po polsku
You know a little Polish, but still you do not understand Poles
Znasz trochę polski, ale nadal nie rozumiesz Polaków
You want to practice speaking in Polish, but do not have anyone
Chcesz ćwiczyć mówienie po polsku, ale nie masz z kim
Over 20 hours of Polish mp3 to download
What is 100 Daily Polish Stories Course
Life Online Webinar Training (20 hours/10 months)
Spotkania Webinar na żywo (20 godzin/10 miesięcy)
During these meetings, you'll get tips on how to use the attached materials. Webinars are held every two weeks. Each user of the course may use webinars for 10 months.
W czasie tych spotkań dostaniesz wskazówki jak korzystać z załączonych materiałów. Są to wideokonferencje, które odbywają się co dwa tygodnie. Każdy użytkownik kursu może korzystać z wideokonferencji przez 10 miesięcy.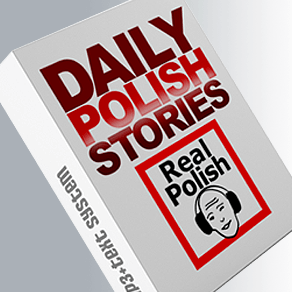 Additional materials included:
100 stories, all with questions and answers
100 historyjek wraz z pytaniami i odpowiedziami
Over 20 hours of audio
Ponad 20 godzin nagrań
Full transcription in pdf
Pełna transkrypcja w pdf
Glossary to every story
Słowniczek do każdej historyjki
This course will help you
Mówić bez zastanawiania się
Without thinking about Polish grammar rules
Bez myślenia o polskich regułach gramatycznych
You will start speaking automatically
Zaczniesz mówić automatycznie
To better understand Poles
Lepiej rozumieć Polaków
Make it easy to communicate
Łatwiej porozumiewać się
Why 100 Daily Polish Stories Program is so good?
Dlaczego program 100 Daily Polish Stories jest aż tak dobry?
Learn Real Polish is a place where you will find excellent Polish live training and lots of additional materials. In this program you will find daily vocabulary. The words are repeated often. You will have many opportunities for repetition. In this way you learn deeply.
Learn Real Polish to miejsce gdzie znajdziesz doskonały trening języka polskiego na żywo oraz dodatkowe materiały do nauki polskiego. W tym programie znajdziesz codzienne słownictwo. Słowa powtarzają się często. Będziesz miał wiele okazji do powtórek. W ten sposób uczysz się głęboko.
You will not find such lessons in any Polish course. Thanks to stories and Q&A you will naturally begin to understand and speak Polish.

Nie znajdziesz takich lekcji w żadnym kursie języka polskiego. Dzięki historyjkom oraz pytaniom i odpowiedziom w naturalny sposób zaczniesz lepiej rozumieć i mówić po polsku.
If you spend 20-30 minutes a day using Polish – not learning – Your Polish will improve. The stories give you the opportunity to learn step by step. Day after day you'll be improving comprehension, speaking, grammar and vocabulary.
Jeśli spędzisz 20-30 minut dziennie używając polskiego – nie ucząc się – Twój polski poprawi się. Historyjki dają Ci możliwość stopniowej nauki. Dzień po dniu będziesz poprawiał rozumienie, mówienie, gramatykę i słownictwo.
This course contains 20 hours of live training. Live webinars are held every two weeks for 10 months. In addition you will get 100 stories, along with questions and answers (each lesson takes 20-30 minutes). It's 10 month of learning. However, my students see results much faster.
Ten kurs zawiera 20 godzin nauki polskiego na żywo. Wideokonferencje odbywają co 2 tygodnie przez 10 miesięcy. Dodatkowo dostajesz 100 historyjek wraz z pytaniami i odpowiedziami (każda lekcja to 20-30 minut). To 10 miesięcy nauki. Jednak moi uczniowie widzą rezultaty dużo szybciej.
Since you are using Polish, and do not learn it – you know that your knowledge of Polish improves.
Ponieważ używasz polskiego, a nie uczysz się go – wiesz, że Twoja znajomość polskiego poprawia się.
You will quickly see your improvement. You will understand more.
Szybko zobaczysz poprawę. Będziesz rozumieć więcej.
Acquire Polish – don't study it!
Chłoń polski – nie studiuj go!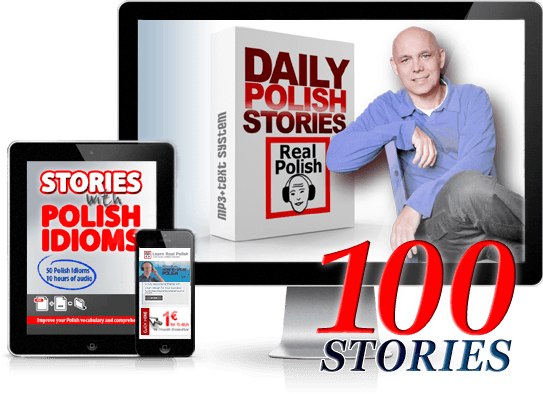 Start 100 Daily Polish Stories Course now.
Life training and support.
Join the community of Polish Learners.
Additional materials mp3 and pdf included.
Zacznij już teraz kurs 100 Daily Polish Stories.
Wsparcie i nauka na żywo.
Dołącz do społeczności uczących się polskiego.
Załączone dodatkowe materiały mp3 i pdf.
POLISH FLUENCY COURSE – 100 Daily Polish Stories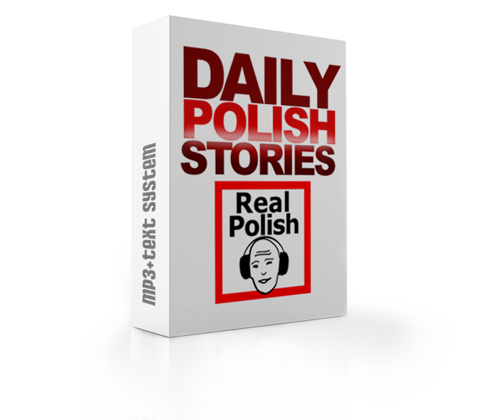 Prices are in PLN Zloty, but totals will be automatically converted to your currency at the payment stage.
What Piotr at Real Polish has done is he has created a variety of content for different levels, particularly for beginners. What he's done is he's put up 100 stories (…) This is excellent beginner material, lots of repetition, interesting.
~Steve Kaufmann
Additional materials for you: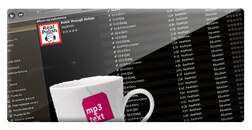 POLISH THROUGH DIALOGS
Polish Through Dialogs is a listening and speaking Polish course. It is for people who need to improve their listening and speaking skills. Every unit contains audio and text, and consists of 4 different parts:
Story
Questions & Answers
Dialog
Pronunciation Drills
You will improve your:
Understanding of Native Polish Speakers
Polish Speaking Ability
Vocabulary
5 hours of Polish Audio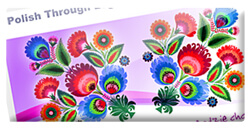 POLISH THROUGH LEGENDS

Polish Through Legends are stories written at a low level. Those classic Polish legends include a lot of useful vocabulary. There are only about 100 different words in one story. Hearing those Polish stories will help you learn Polish quickly and in a fun way!
Increase your comprehension of Polish
Learn grammar without trying to memorize grammar rules
Improve Polish fluency by reading along with the story
Over 1 hour of Polish Audio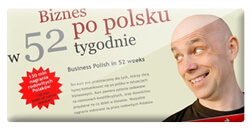 BUSINESS POLISH in 52 WEEKS
This Business Polish Course includes 52 lessons, all with audio and text.
All lessons are recorded by native Polish speakers.
Each lesson is first presented with a slow rate of speech, and then at normal speed.
You get a transcription of every single word we use in this course.
Business Polish Course covers three parts of business subjects:
Everyday business conversations
How to get a job
Talking about business
2 hours 10 min of Polish Audio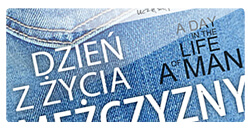 A DAY in THE LIFE of A MAN
This course is for anyone who wants improve listening comprehension and speaking in Polish.
Lesson 1 Getting Up
Lesson 2 Cleaning Up
Lesson 3 Eating Breakfast
Lesson 4 Ready for Work
Lesson 5 Go to Work
Lesson 6 At the Office
Lesson 7 The Commute Home
Lesson 8 Making Dinner
Lesson 9 Relaxing
Lesson 10 Going to Sleep
2 hours 20 min of Polish Audio
POLISH FLUENCY COURSE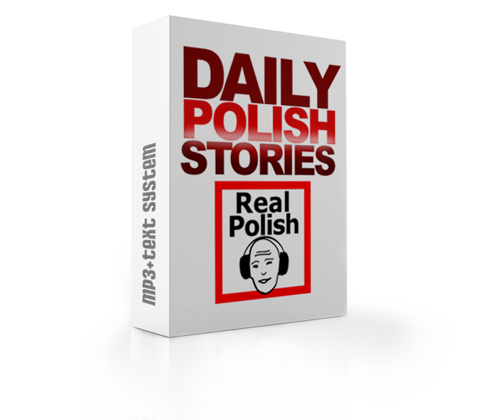 100 Daily Polish Stories
YOU DON'T NEED A PAYPAL ACCOUNT YOU CAN USE YOUR CREDIT CARD
Paypal processes the credit card payment and sends it to your credit card company,
you don't have to sign up for a Paypal account if you don't want to.
After you make your payment you will get your Download Instruction instantly.
Download link is sent to e-mail entered during payment procedure.