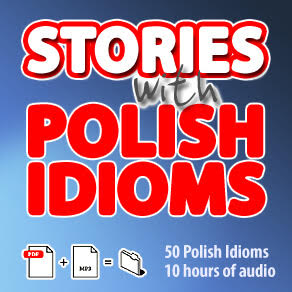 POSTĘP:
It's easy – you have to listen to stories with that idioms. The best method of learning vocabulary is learning by using meaning context. Contextual learning is the best way to learn Polish (and others languages too). That's why I really recommend you using questions and answers method in order to learn Polish. Of course in this program questions and answers are the core part. Answering the questions you learn new vocabulary and grammar structures, if you do this long enough time new language become part of you, and you are able use it automatically, without thinking.
To łatwe – musisz słuchać historyjek z tymi idiomami. Najlepszą metodą nauki nowego słownictwa jest uczenie się przez kontekst. Nauka przez kontekst to najlepszy sposób nauki polskiego (i innych języków). Właśnie dlatego tak bardzo polecam metodę pytań i odpowiedzi w nauce polskiego. Oczywiście w tym kursie pytania i odpowiedzi są najważniejszą rzeczą. Odpowiadanie na pytania pozwala uczyć się nowego słownictwa i struktur gramatycznych. Jeśli robisz to wystarczająco długo to nowy język staje się częścią Ciebie i możesz używać go automatycznie, bez myślenia.
Kurs jest dostępny dla wszystkich użytkowników klubu VIP. Jeśli nie jesteś zarejestrowany to możesz dołączyć do klubu VIP w każdej chwili.
Części kursu "Stories with 50 Polish Idioms"
50 Polish Idioms #41-45. Pizzeria – Coming Soon
50 Polish Idioms #46-50. Wycieczka w Bieszczady – Coming Soon