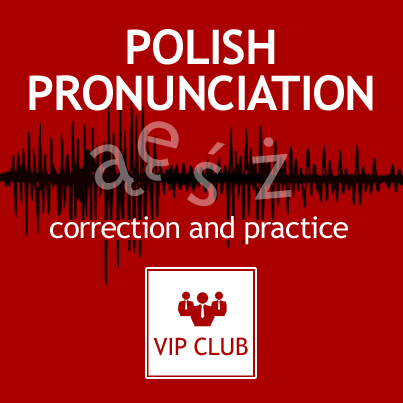 POSTĘP:
SEND YOUR POLISH RECORDING
Record your short (3-4 minutes) message in Polish and send audio file to me: mrrealpolish(at)gmail.com

I will give you my feedback as soon as it is possible, it will be available in VIP Club Pronunciation Training Series.
File type: mp3, m4a, wav, wmv
Improve Polish Pronunciation
Many people who learn Polish consider Polish pronunciation as something really hard to learn. Of course if you want to speak clearly in Polish you have to listen a lot of Polish. But one day you want to check if your Polish pronunciation is good, understandable or maybe you speak almost like a native.
This program will help you find the pronunciation problems and focus on how to correct them. Here you can send your Polish recording and I will give you some feedback about your Polish pronunciation.
Good pronunciation is really important if you want to easily communicate in Polish. It always make a great impression on Poles – you can make some grammar mistakes, but if you have good pronunciation people always appreciate your effort.
Popraw swoją wymowę
Wiele osób, które uczą się języka polskiego, uważa polską wymowę jako coś bardzo trudnego do opanowania. Oczywiście, jeśli chcesz, aby mówić wyraźnie po polsku powinieneś dużo słuchać po polsku. Pewnego dnia zechcesz sprawdzić, czy twoja wymowa jest dobra, zrozumiała, a może mówisz prawie jak rdzenny Polak.
Tu możesz to zrobić.
Ten program pomoże Ci znaleźć problemy z wymową i skupić się na tym jak je poprawić. Tutaj możesz wysłać polskie nagrania, a ja dam Ci moją opinię temat twojej wymowy.
Dobra wymowa jest bardzo ważna, jeśli chcesz łatwo komunikować się w języku polskim. To zawsze robi wielkie wrażenie na Polakach – możesz zrobić kilka błędów gramatycznych, ale jeśli masz dobrą wymowę ludzi zawsze doceniają twój wysiłek.
Wszystkie części kursu VIP Pronunciation Correction